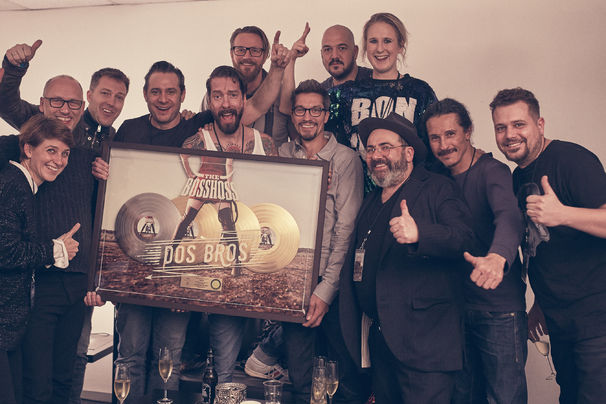 Dreifach-Gold für das Album »Dos Bros« von The BossHoss
Mit mehr als 300.000 verkauften Exemplaren ihres aktuellen Albums "Dos Bros" haben die Großstadtcowboys von The BossHoss am 16. Dezember 2016 in Köln ihren Tourabschluss gebührend feiern können!
Das Management von Internashville gratuliert den Jungs zu diesem Erfolg!
Noch am selben Abend wurde ihnen der Award überreicht, bevor sie gemeinsam mit über 10.000 Fans in der Lanxess-Arena eine fulminante Show mit beeindruckender Pyro, Feuer und $-Konfetti abgeliefert haben.
Für das laufende Jahr werden Boss & Hoss die neuen Hosts der Erfolgs-TV-Show "Sing meinen Song" auf VOX.
Wir freuen uns schon sehr auf dieses TV-Highlight in 2017 und auf die Zeit in Südafrika.
Mit dabei sind Lena Meyer-Landrut, Stefanie Kloß (Silbermond), Gentleman, Mark Forster, Moses Pelham und Michael Patrick Kelly.
Foto (v.l.n.r.): Doreen Sonst (Redakteurin Unterhaltung/Show, VOX), Thomas Wißmann  (Executive Producer Unterhaltung/Show, VOX), Bernd Reichart (Geschäftsführer, VOX), Sascha Vollmer, Alec Völkel, Ansgar Freyberg, Frank Engel (Senior Director Marketing/Labelhead, Polydor/Island), Stefan Bühler, Sophie Kammann (Internashville, Management), Malcolm Arison, Tobias Fischer, André Neumann.
Copyright: Philip Scholl